Have you been feeling stressed out or overwhelmed during your job search? You're not alone. The average job search can take
a little more than six weeks
, depending on the industry, and we understand it can be a rollercoaster ride with a series highs and lows.
To help you find some inspiration and motivation for your job search, we've collected quotes from our past presidents!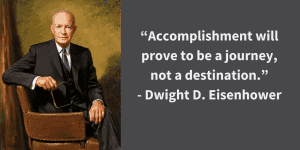 "Accomplishment will prove to be a journey, not a destination." – Dwight D. Eisenhower
The road to a new job can be long and come with a few setbacks before you land your next career, but it's important to respect the process and know that it will be worth it in the end. When you finally land that job you've been wanting, it will feel great to reflect on the journey that got you to where you are. Don't forget to reach out to one of our recruiters if you need help speeding up the journey.
"Conformity is the jailer of freedom and the enemy of growth." – John F. Kennedy
It's important to remember to be yourself when you are looking for a new job. Being yourself is the only way you can grow personally and professionally, and it's the only way to truly fit in with your new team. Go into your next interview with your head held high, confident in your abilities and show your personality, so the hiring manager will know whether or not you will be a good fit for not only the workload, but the culture of the company, too.
"If you're walking down the right path and you're willing to keep walking, eventually you'll make progress." – Barack Obama
Staying focused on your goals is crucial to success. Keep applying, interviewing and even working with a recruiter to help reach your next career destination. After weeks of hunting for a new job, it can feel like you've gotten stuck and aren't moving forward – but you are! Working hard and making the right moves will ensure you will get to where you want to be, even if it takes a little time.
"I hold the maxim on less applicable to public than to private affairs, that honesty is always the best policy." – George Washington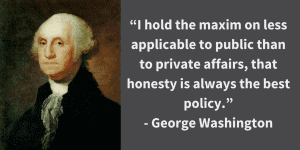 In all aspects of life, our first president is absolutely correct: honesty is always the best policy. Whether you're working with a recruiter, a hiring manager or even a friend who is lending a helping hand, it's important to be honest about what you want in a new position, and about the skills you have. Fluffing your skills seems like a great idea to get you an interview, but too much fluff could land you in a position that you aren't ready for and may end up disliking. Having a clear understanding of what you're looking for will help you find the right position, and help a hiring manager choose you for the position you want and are qualified for.
"Nothing in the world can take the place of persistence. Talent will not; nothing is more common than unsuccessful men with talent. Genius will not; unrewarded genius is almost a proverb. Education will not; the world is full of educated derelicts. Persistence and determination alone are omnipotent. The slogan 'press on' has solved and will always solve the problems of the human race." – Calvin Coolidge
Calvin Coolidge's words remind us there are many talented people in this world, but not all of them have the persistence and determination to reach their full potential. Don't let the job search get you down. Stay determined to meet the right people, show off your skills and experience, and keep going when others give up. You know what they say – there's never a traffic jam on the extra mile.
If it's time for you to find a new position or you're having trouble landing a new job, contact one of our recruiters to help you through the journey to a new job.