It's a great time to examine your processes and make sure everything your company is doing drives your business forward effectively and efficiently. Are you looking to grow your team this year? Here are a few trends you'll want to embrace moving forward.
Short and Sweet Job Postings
Busy job seekers don't always have time to read lengthy job postings. For the best responses, keep your job descriptions short and sweet. Catch potential employees' attention with an exciting and descriptive headline and lay out only the most important information, preferably in bullet points. Save your more in-depth details for the interview process.
Quick Response Time
It's important to respond quickly to incoming job applications. We live in an Amazon Prime world and generally don't like to wait for things! Social media has also taught us to expect instant responses. Do your best to reach out to applicants quickly and t least let them know you are reviewing their application. Showing acknowledgment will improve your company's appearance and make the applicants feel appreciated.
Mobile Friendly Technology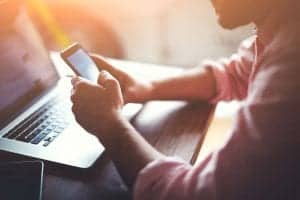 Research shows that people are not just using their phones for texting and calling anymore. Twenty-eight percent of adults and 53 percent of young adults have used a smartphone to look for a job. Ninety-four percent of those smartphone job seekers have browsed or researched jobs on smartphones as well. Fifty percent of smartphone job seekers have applied to a job on their phone. Because of this data, it is essential to make sure your job postings and platforms are optimized for mobile devices.
Strong Brand and Consistency
Strong and consistent company branding will help attract the best employees for your organization. An employer brand encompasses everything from website language, social profile voice and correspondence with customers and potential new hires. By implementing a cohesive voice and look throughout these areas, your company will develop a strong identity that is memorable to customers and ideal employees.
Hiring and retaining top talent can be difficult. Keep these tips in mind to attract and keep the top talent for your workforce. Are you interested in learning more about hiring in the modern day? Get in touch with us today and our team of professionals will help you examine your hiring process.