David Marquez
Partner, Practice Director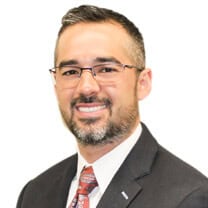 David Marquez is a Partner, Practice Director for Capstone Search Advisors providing team leadership and recruitment efforts for retained search projects. He started his professional recruitment career in 2006 and joined Alliance in 2015, giving him a wealth of experience in the field.
Primary focuses, on a national scale, have been in engineering, manufacturing operations, supply chain, sales/marketing, accounting/finance, human resources, LEAN/continuous improvement, and construction professionals. The levels of personnel range from senior executives to individual contributor roles for various manufacturing, distribution, and construction operations.
David was born and raised in Cincinnati, OH and traveled north to play baseball and attend John Carroll University where he completed his Bachelor's Degree in Communications. After graduating in 2005, he has since stayed and made Cleveland his home, though he remains an avid Cincinnati Bengals and Bearcats fan.
Get in touch with David:
dmarquez@capstonesearch.com
(216) 273-1466